Purchase MVR Albums
---
Ring We All Noel
Our third album, Ring We All Noel, is available for purchase as a digital download. We're sure some of your favorites are on the track list below.
Joy to the World – arr. Benjamin Roundtree
Here We Come A-Caroling – arr. Anna Laura Page
Sing We All Noel – arr. Fred Gramann
O Come, O Come Emmanuel – arr. Joel Raney/Arnold Sherman
Wexford Carol – arr. Philip Roberts
A Nativity Celebration – arr. William Gross
Ave Maria – arr. Cathy Moklebust
We Three Kings – arr. Joel Raney
O Come, Little Children – arr. Sondra Tucker
Silent Night – arr. Karen Roth
Wassail Song – arr. Martha Lynn Thompson
Catalonian Carol – arr. Julie Turner
Wizards in Winter – arr. Rima Greer/Tim Waugh
Carol of the Bells – arr. Arnold Sherman
---
Kaleidoscope
Our second CD, Kaleidoscope, is available for sale using the button below.
Gaudeamus – Arnold B. Sherman
Meditations of The Heart – Michael Helman
Capriccio – Kevin McChesney
Amazing Grace – arr. H. Dean Wagner
How Can I Keep From Singing? – arr. Arnold B. Sherman
This Is My Father's World (solo) – arr. Alan Lohr
Allegro Glorioso – Arnold B. Sherman
Classical Gas – arr. Paul A. McKlveen
Furioso – Paul A. McKlveen
Maple Leaf Rag (quartet) – arr. Charles Maggs
Celtic Farewell – Linda R. Lamb
A Walk in the Park – Karen L. Buckwalter
Pirates of the Caribbean – arr. Kevin McChesney
Fantasy No. 3 in G minor – Arnold B. Sherman
---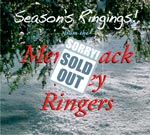 Season's Ringings
Sorry, as of December 2011, our first CD, 2005's Season's Ringings, is completely sold out.